[email protected] Tel: 01654 791342
Traction Kiting.
Traction Kiting covers a wide range of activities, from simple scudding across the beach on your feet powered by a kite to more impressive kite-powered travel onboard specially designed vehicles such as buggies or mountain-boards.
kite Surf Wales' local beaches are perfect for these land-based kite traction sports. They are long, sandy uncrowded beaches ideal for mastering the kite flying techniques and control of your chosen vehicle, with the space for more advanced riders to really 'strut their stuff!'
Traction kiting on mountain-boards or buggies is an extremely fast and exhilerating sport, that is certainly not for the faint hearted. Very little wind is needed, so as well as being a sport in its own right, it is also a great way for beginner kite-surfers to familiarise themselves with flying a kite whilst travelling along on a board. Many advanced kite-surfers tend to keep a mountain board and suitable kite available for those days when it isn't possible to get out on the water.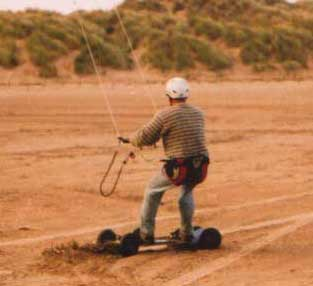 Here at Kite Surf Wales, we often use traction activities to familiarise students with the techniques involved in flying a kite whilst in motion, and can also provide kite-mountainboarding and kite-buggying sessions.