[email protected] Tel: 01654 791342
Kitesurfing.
Kite-surfing is a new, exciting, wind driven sport where a rider on a surf or wake-style board is pulled across the water by a large kite. It is one of the most radical board-sports ever and also one of the fastest growing sports in the world!!
Despite appearances it is actually a relatively easy sport to learn. Complete beginners can learn to fly the kite on dry-land, before first learning to Body Drag. Body dragging in itself is an exhilerating experience, which most people master in just one day. The kite is used to pull the flyer through the water so that they rise up out of the water and plane along on their front. It is one of the best ways to learn how to control a kite and get used to handling the kite whilst being in the sea.
Once the art of body-dragging has been mastered, students soon progress onto the kite-surf board and are usually up and going sooner than they would have imagined. Its then that the fun really begins, and after your first few runs, the sky is the limit….Literally!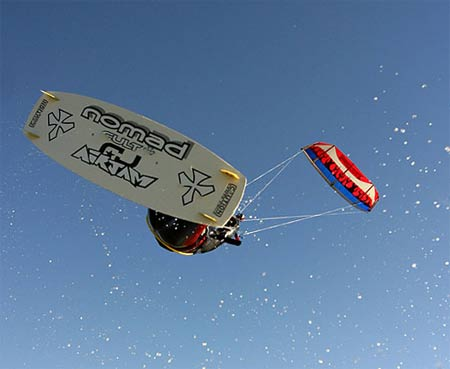 Here at Kite Surf Wales, we will guide you through a well-structured course aimed at providing maximum progress in a safe manner. The main sections of this process are:
The equipment. The options, setting it up and the safety systems.
The principles. Flying the kite and understanding the wind.
On the Water. Body Dragging and getting up and going on the board.
On the Water 2. Gaining ground upwind, turning and your first jumps
These skills are normally taught over 2-3 days, but lessons are individually tailored to meet the needs of the students as some individuals progress faster than others. For more advanced riding skills such as turning techniques and jumps extra coaching may be necessary.