[email protected] Tel: 01654 791342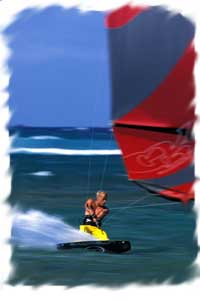 Kite Surf Wales
Kite Surf Wales offer individual or group tuition in all aspects of kite-powered activities. From basic power-kite flying through to kite buggying, kite mountain-boarding and kite surfing. Kite-powered sports are easy to learn, yet can provide challenges for even the most ambitious. Based on the edge of Snowdonia National Park and surrounded by perfect kiting locations, Kite Surf Wales is THE place to fulfill your kiting desires!.
| | |
| --- | --- |
| Latest News | Updated: 28th Dec. 2007, 10:17am |
Solid 25-35 knots Sw wind at the mo, due to back off for Saturday and Sunday. We teach all year round, so call us now to book in.
Kitesurf Wales is Aberdovey and mid wales's ONLY Kite surf school, call us for a up to date wind forcast.
Gift vouchers for KITE SURF LESSONS available, give some one a Extreme Christmas present! (vouchers valid for 12 months). Call us for more info or buy them direct from our online shop.
Ozone instincts available to Demo in various sizes.
LOOP CLOTHING, THE PERFECT CHRISTMAS PRESENT, BUY IT NOW ON OUR ONLINE STORE!
ROYAL ERA available now,14, 12, 10 and 8 meter. Demo one now.GK V sonic should be here for Christmas, call us for updates.
CRAZY-FLY'S, Raptor 08 board range available to demo, as well as the Rocky chatwell pro model, E mail us your address for a free brochure.
Receive a free kitesurf lesson worth £90 with every new kite surf kite purchased. Instruction from fully qualified,(Bksa/Iko instructors). ASK US ABOUT OUR CHOICE OF UNDER £999 COMPLETE PACKAGES!!
MID WALES'S ONLY KITE SURF DEMO CENTRE!! COME ALONG AND DEMO KITES AND BOARDS BY GK, CAUTION, NAISH, OZONE, RRD, AIRUSH, CRAZY FLY AND MORE. FREE 1 DAY KITESURF COURSE WITH EVERY NEW KITE PURCHASED.
Only an hour and a quarter from Shrewsbury,"KITESURF WALES" is the Midlands closest training centre!!!!
KITESURF LESSONS
Tuition and equipment advice available 7 days a week, all year round, from Level 2 IKO instructors. Power kiting, land boarding, buggying and kite surfing. We're on the beach every day!! Unlike some Power kite schools, "A days course", means a whole day, not a few hours!!!!Kitesurf UK.
We dont have a BEACH HOUSE, Aberdovey were on the beach!!!!!!
IKO
INTERNATIONAL KITESURFING ORGANISATION
IKO Instructors are the only qualified kitesurf instructors. All IKO Instructors teach following the set IKO guidelines and safety techniques. We are also qualified to certify your levels of achievement. These are then recognised worldwide. All 'Kite Surf Wales' instructors are IKO qualified.
ONLINE SHOP

Check our online kite shop for all the latest deals on kites, boards and accessories.



This project is part financed by Gwynedd council and the welsh assembly government through the local regeneration fund and by the European union- European Regional Development fund